WARMINGTON: The system didn't keep the cop killer locked up
Content of the article
Until this week when he shot and killed the Toronto police officer. Andrew Hong, it seemed the only thing Sean Petrie hadn't been charged with was murder.
Content of the article
Possession of a firearm, robbery, sexual assault, child pornography, pimping, trafficking, impaired driving and violation of bail conditions. The criminal record of criminal charges before the courts against Petrie was so extensive and varied that he had documents on the computer in four different courthouses in Ontario.
Content of the article
Now authorities could add two counts of first-degree murder and three counts of attempted murder to his disturbing arrest record. Or, at least, they might if the 40-year-old wasn't shot and killed in Hamilton as he tried to escape the deadly chaos he left behind in Mississauga and Milton.
Federal parole documents obtained by the Toronto Sun say he was convicted of property crimes, robbery, drug trafficking and possession of weapons.
Content of the article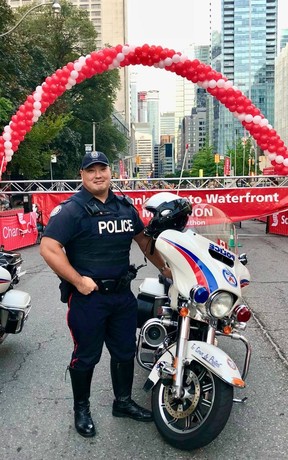 On Tuesday, police were scrambling to determine which of the charges against him had resulted in convictions, been stayed or were still before the courts.
That he turned to such sadistic violence comes as no shock when you see how many times this man was in courthouses in Brampton, Toronto and Kitchener.
Police from three jurisdictions – Toronto, Peel and Halton – are investigating what happened Monday: the ambush that left Hong, 48, dead at a Tim Hortons in Mississauga; the murder of 38-year-old Shakeel Asharaf at his MK Auto Repairs garage in Milton; the injury of two Aharaf staff members; and one person injured in a carjacking.
It is clear that this man was regularly in the clutches of the Canadian judicial system. But why the hell wasn't this menace in prison?
Content of the article
Recommended Video
As Sun Columnist Michele Mandel discovered in his federal parole records Petrie was considered such a public threat that they imposed conditions on his statutory release like electronic monitoring, a curfew and orders to avoid drugs and association with gang members.
« Your offense cycle, as demonstrated by your criminal history, is directly related to the negative influence of other criminals, including those involved in the gang subculture, » the parole board wrote in August 2010. « Your involvement with these associates led to your convictions for property crimes, theft, drug trafficking and possession of weapons.
WARMINGTON: Like Const. Andrew Hong, mechanic Shakeel Ashraf just got off to work

Toronto police brass and the mayor pay their respects to the slain const. Andrew Hong

HUNTER: cop killers at the bottom of society
Content of the article
The board has since said that « you have shown comfort with the possession of cocaine and other narcotics for the purpose of trafficking ». They asked him to refrain from buying, possessing or using non-prescription drugs.
Ordering that he stay away from the area of ​​Kipling Ave., Allen Rd., Eglinton Ave. and Steeles Ave. to safely manage your risk and are intended to assist your rehabilitation.
As Mandel discovered, Petrie's score on « SIR (Statistical Information on Recidivism) was -3 », meaning that « one in two inmates » will commit a criminal act upon release.
It is something that they understood well.
Unfortunately, he has been proven to be one of the most dangerous criminals in Canada.

torontosun