Edith Frayne, 45, is accused of pushing a woman onto the tracks at Bloor-Yonge station on Sunday
Content of the article
A Toronto woman charged with attempted murder after a horrific pushing incident on the subway appeared in court on Tuesday morning.
Edith Frayne, 45, was arrested at 6:18 p.m. Monday by Toronto police at the Finch GO station.
The TTC said the arrest came after an employee recognized the woman, whose image was widely circulated by police after the incident on Sunday night.
"The arrest was made possible by the alert actions of an observant TTC employee working at Finch Station," TTC spokesman Stuart Green said.
"They immediately called Transit Control, who passed the information on to Toronto police."
Cops say a 39-year-old woman was pushed onto the tracks just after 9 p.m. Sunday at Bloor-Yonge Station.
WARNING: Some readers may find the video disturbing to watch
Content of the article
After landing on the track, the woman rolled under the platform into a space that allowed her to avoid being hit by an oncoming train.
She broke a rib in the fall and is being treated in hospital.
During Frayne's brief court appearance, she spoke by phone from the 55th Division.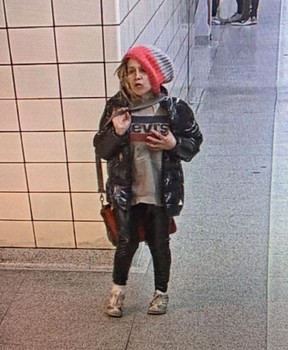 Through duty counsel, his lawyer — Nick Xynnis — requested more time to obtain Crown disclosure and prepare for a bail hearing.
Frayne has been ordered to have no contact with the victim and is due back in court in College Park on April 27.
The shocking incident has reignited calls for platform barriers to be installed at TTC subway stations.
slaurie@postmedia.com



torontosun