SIMMONS: Argonauts bask in Gray Cup limelight with downtown party
"The way this team has come together, the chemistry of this team, it's just amazing"
Content of the article
A group of cheering, dancing, weary, champagne-spraying Argos celebrated their Gray Cup victory in style Thursday afternoon in front of a relatively packed audience of fans in a relatively small Maple Leaf Square.
Content of the article
The players dunked part of the crowd of around 1,000, dunked Judy Tanenbaum, wife of co-owner Larry Tanenbaum, dunked anyone they could reach from a distance. And if possible, did it a little more.
Content of the article
"As exciting as it was for other championships, it was even more exciting," said Tanenbaum, president of Maple Leaf Sports and Entertainment, who has overseen an NBA title by the Raptors, a previous Gray Cup by the Argos, a AHL championship by the Marlies and an MLS crown by Toronto FC. "The way this team has come together, the chemistry of this team, it's just amazing."
Content of the article
Tanenbaum went on to call last Sunday's 24-23 Gray Cup win over the Winnipeg Blue Bombers "an absolute classic." I've watched the Gray Cups for the past 70 years and I have to tell you, this one is the best.
Content of the article
The Argos players, coaches, staff and family in attendance were not about to disagree. While the event felt like an awards show – lots of winding speeches going nowhere – the emotion was pure and absolute.
Coach Ryan Dinwiddie admitted he had barely slept since winning the title on Sunday night. Many of his players said the same thing.
The coach paid tribute to his staff and players. General manager Michael (Pinball) Clemons did the same to his head coach and club chairman Bill Manning paid tribute to Clemons.
There wasn't a dry eye in the house – but that had more to do with the champagne than anything emotionally said at the celebration.
It was the first public celebration since the victory, but linebacker Henoc Muamba, voted most valuable player of the game and Canada's top player, hasn't really stopped celebrating since Sunday night.
Content of the article
He wore the Gray Cup to a Maple Leafs game on Monday, a Raptors game on Wednesday, and in the meantime barely lost the trophy with his eyes.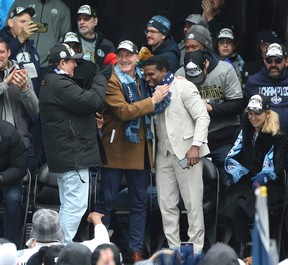 Onstage at Maple Leaf Square, Muamba shared the Argos' attitude to the cold in Regina, saying, "It's not cold enough," then followed it up by taking off her top and reducing her clothes to an undershirt.
"I still can't believe this happened," said Muamba, a second-year Argo from Mississauga. "Did it really happen?"
After Muamba began stripping, other Argos followed suit. This team is so close, when one player does something another is sure to follow.
After the ceremony ended, backup quarterback Chad Kelly said he was ready to be a starting quarterback in the CFL and ready to take on the Argos' role if free agent McLeod Bethel-Thompson chooses not to. not come back next season. MBT, appearing on screen from his American Thanksgiving Day, did not say whether he would return to the Argos or the CFL next season.
Content of the article
Like many players, he thanked and praised his family for giving him the opportunity and the time away from home to play professional football.
This Gray Cup triumph is monumental for this Argos team, a feat possible as a CFL champion team. They have no shortage of upcoming free agents, including Bethel-Thompson, wide receiver Kurleigh Gittens Jr., running backs Andrew Harris and AJ Ouellette, Gray Cup heroes Robbie Smith and Muamba, and defensive stalwarts such as I Gared Davis, Shane Ray, Wynton McManis, Chris Edwards and Shaq Richardson.
That puts some pressure on GM Clemons, especially when young Canadians like Gittens and Smith are sure to be in demand in the league.
Last-minute blocked kick preserves Gray Cup upset for Argonauts against Winnipeg

SIMMONS: Argonauts alumni show young, once 'immature' team how it's done

SIMMONS: Champion Argos – we care the least, they earn the most
But all that is for tomorrow. Today — and yesterday — and perhaps for the next few days, the party will continue.
Chief Stacey Laforme, of the Mississaugas of Credit First Nation, kicked off the event Thursday morning with some words of wisdom.
"I want to thank the Argos for giving us a reason to celebrate," he told the crowd. "Tomorrow we return to everything we return to."

torontosun