Rogers Communications customers reporting service outages
Highest concentration in Ontario, but reports from across the country as well
Content of the article
Rogers Communications Inc customers across Ontario and other parts of the country reported outages Friday morning.
According to online tracker Downdetector Canada, there were more than 20,000 reports as of 6:45 a.m. Users were reporting problems with internet, TV and Wi-Fi connections.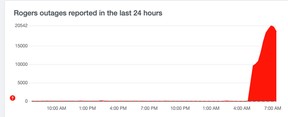 While the highest concentration came from Ontario, outages were also reported in Montreal, Winnipeg and Edmonton.
Early this morning Toronto Police tweeted that some people would have trouble calling 911 due to Rogers' technical difficulties.
Content of the article
The outages also appeared to be impacting Interac and wholesale resellers of Rogers services, CBC reported.
Rogers did not immediately respond to Reuters' request for comment.
Additional Reuters reports
More soon …
financialpost