REVIEW: Swashbuckling blues and Southern rock kick off Saturday night
[ad_1]

As Larkin Poe, Americana sisters Rebecca and Megan Lovell kick off the main stage at the Edmonton Folk Music Festival on Saturday night
Reviews and recommendations are unbiased and products are independently selected. Postmedia may earn an affiliate commission on purchases made through links on this page.
Content of the article
Saturday night on the main stage of the resurrected Edmonton Folk Music Festival kicked off on a rock note with Nashville's Larkin Poe.
Content of the article
A swaggering blues-rock note to be precise, as sisters Rebecca and Megan Lovell headed for an insistent bass and drum beat, launching bursts of jarring guitar (Rebecca) and lap steel (Megan) for the intro. of the affirmative She's a Self Made Man. They kept the energy going with Keep Diggin', blues hero named Albert King on Trouble in Mind, and summoned the spirit of Son House with a muscular version of Preachin' Blues.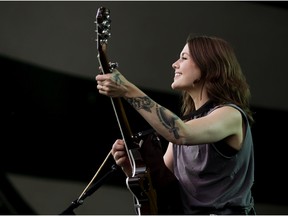 They're a powerful duo with deep roots in Americana, and it shows, with flashes of southern rock piercing through the heavy blues. Both are outstanding players and they put their hour-long set to good use, both in tandem and solo. By the time they finished with the Blue Ridge Mountains anthem, they had completely captivated the growing number of people already crowding the hill.
More soon …
yegarts@postmedia.com
[ad_2]
Gb8