Renowned Ottawa scientist Michael Rudnicki joins the Royal Society
His research has transformed the understanding of muscle development and regeneration and led to new stem cell-based approaches for the treatment of muscular dystrophy.
Content of the article
Michael Rudnicki's wife bought him a fountain pen for Christmas so he could practice signing her name with it.
Content of the article
On Wednesday, the Ottawa scientist who is internationally recognized for stem cell research – particularly in relation to Duchenne muscular dystrophy – put the practice to work, neatly writing his name in the charter book of the Royal Society in London.
In doing so, Rudnicki, 63, joined Sir Isaac Newton and Charles Darwin, as well as many of the world's leading scientists, in becoming a member of the oldest scientific academy in continuous existence. As part of the ceremony, new members are required to use a fountain pen.
He is one of only 12 Canadian members of the 362-year-old academy. Four of the new Fellows admitted to the Royal Society on Wednesday are Nobel Prize winners.
"It's a huge honour. I am humbled and gobsmacked," Rudnicki said in an interview ahead of the ceremony in London this week. « It gives me goosebumps. »
Content of the article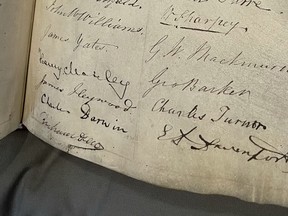 Rudnicki is a Principal Investigator and Director of the Regenerative Medicine Program at the Sprott Center for Stem Cell Research at the Ottawa Hospital Research Institute. He is also Scientific Director of the Canadian Stem Cell Network.
The Ottawa-born scientist, who dreamed of being a marine biologist as a child because of his love for the work of Jacques Cousteau, opted for biology because it was available at local universities. He was quickly drawn to molecular biology and dedicated his career to the field of stem cell research.
His research has transformed the understanding of muscle development and regeneration and led to new stem cell-based approaches for the treatment of muscular dystrophy.
Content of the article
Rudnicki said what initially drew him to molecular biology was the joy of discovery, but his motivations changed over time.
"As I got older, I met patients and children with these terrible diseases, including Duchenne muscular dystrophy. The motivation now is to do something positive to impact their lives, and I think this work is going in that direction.
Duchenne muscular dystrophy is a genetic disease characterized by progressive muscle degeneration and life-limiting weakness. Treatment means some people live into their 30s with the disease, but most don't live beyond their 20s. There is no known cure.
Canada is recognized as a major center for stem cell research. It has been said that if hockey is Canada's sport, stem cell research is Canada's science.
Content of the article
Two Canadian scientists — James Till and Ernest McCulloch — first demonstrated the existence of stem cells in 1961 while studying the effects of radiation on mouse bone marrow at the Ontario Cancer Institute in Toronto. Their research is now considered a fundamental scientific discovery of the last century, just like DNA.
« It's really the science of Canada, » Rudnicki said. "We are world leaders in stem cell research. We punch well above our weight.
The Stem Cell Network has supported numerous clinical trials testing new therapies that it believes have the potential to revolutionize medicine.
"This is a real area of ​​strategic strength in Canada. Something all Canadians should be proud of.
Rudnicki says her scientific career continues to be extremely satisfying.
Content of the article
"When an individual working in a lab can make discoveries that can contribute to human knowledge, it's extremely exciting. It's a full life. »
Yet he said he never imagined he would be part of a scientific organization that includes icons such as Charles Darwin, who changed history with his work.
« I'm working hard to make my place, but I never imagined being elected to the Royal Society. It's very humbling.
On Wednesday, Rudnicki soaked up the atmosphere of the Royal Society, snapping photos of famous signatures in the charter book that date back to 1662 and posing next to a painting by Darwin.
As with many stages of the pandemic, he had to wait for this moment. He was nominated in 2020, but the ceremony was delayed for two years due to COVID-19. Each year some 700 scientists, including some from Commonwealth countries, are appointed to the Royal Society and around 50 are elected by the membership. Since its inception, the society has had approximately 8,000 members. Currently, there are 1,700 members.

Gb8