Quebec woman returning from Syria faces terrorism charges, RCMP say
Oumaima Chouay had been under investigation since November 2014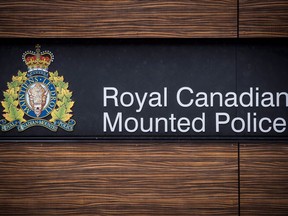 Content of the article
MONTREAL — A Quebec woman who allegedly traveled to Syria to join the Islamic State terrorist group has been repatriated from a detention camp in Syria and faces terrorism charges, the RCMP announced on Wednesday.
Content of the article
Oumaima Chouay faces charges of leaving Canada to participate in the activity of a terrorist group, participation in the activity of a terrorist group, supplying goods or services for terrorist purposes and conspiracy to to participate in the activity of a terrorist group.
Content of the article
RCMP said Chouay, 27, has been under investigation by the police's Integrated National Security Team since November 2014.
Global Affairs Canada said in a statement that a total of four Canadians – two women and two children – were transferred from the camp in northeast Syria, thanking the Autonomous Administration of North and East Syria. Syria for its cooperation and the care provided to those detained, as well as the United States for its assistance.
Content of the article
Along with Chouay and her two children, B.C. resident Kimberly Polman was also deported to Canada early Wednesday, her lawyer confirmed.
Insp. David Beaudoin told reporters that Chouay's arrest is the culmination of the investigation launched after the woman left Canada in 2014.
« According to the investigation, Ms. Chouay traveled to Syria and Iraq to join the Islamic State terrorist group, » Beaudoin said outside RCMP headquarters in Montreal. « In Syria, it is alleged that she participated in terrorist activities on behalf of the Islamic State. »
RECOMMENDED VIDEO
In November 2017, according to the RCMP, Chouay was taken prisoner by the Syrian Democratic Forces and detained at the Roj camp in an area recaptured from the Islamic State of Iraq and the Levant. It was there that she remained until her return to Canada, with her two children born while she was overseas.
Content of the article
Beaudoin said children have been a concern for investigators since the investigation began.
"We have taken significant steps to ensure they receive the appropriate support. At this stage, they are supported by the CIUSSS (regional health authority) and the family has also been asked to participate in the response to ensure that they get the best possible support," said Beaudoin.
Chouay, from the borough of Pierrefonds in west Montreal, was arrested by RCMP around 2 a.m. Wednesday after landing at Montreal's Trudeau International Airport.
She appeared briefly via video link Wednesday from RCMP headquarters, wearing a chador that covered everything but her face. Her lawyer, Audrey-Bianca Chabauty, asked the court for her to have access to medical services while in detention.
Content of the article
Federal Crown Attorney Marc Cigana opposed bail for the defendant, telling reporters after the hearing that Chouay is considered a flight risk and a danger to society. The parties will return to court on Friday to set a hearing date.
Polman's attorney, Lawrence Greenspon, said he spoke to him after he arrived in Montreal and understood that federal authorities would seek a peace bond imposing conditions on his release. He said she was on her way to Vancouver.
"At this point, I expect her to be brought before a justice of the peace and entered into a recognizance," Greenspon said.
Greenspon said in an interview that his client was delighted to be back in Canada, adding that Polman's poor health was the main reason she was repatriated.
Content of the article
Polman's family told The Canadian Press last year that she was suffering from post-traumatic stress and other challenges about six years ago when she surprised them by showing up in Syria. She married an ISIL fighter but they soon separated. She was imprisoned and later publicly denounced ISIL.
Greenspon said seven Canadians have now returned home after being detained in Syria, with many more still waiting, including young children.
« Every time this happens, it demonstrates, once again, the ability of the Canadian government to make it happen, and the 23 other Canadians I represent ask the question, 'Well, if you can do this for Kimberly Polman… what could we do in the detention camps of northeast Syria? said Greenspon.
Content of the article
Greenspon said more than 20 countries have repatriated 1,000 nationals to their respective countries, so Canada's efforts are lagging behind. He plans to proceed with a Federal Court hearing scheduled for Dec. 5 on the matter.
"So hopefully we can bring back all the Canadian men, women and children before that and not need a hearing. That would be wonderful," Greenspon said.
Speaking ahead of the Liberal caucus meeting in Ottawa, Prime Minister Justin Trudeau was asked about repatriation efforts and costs.
"Basically, traveling for the purpose of supporting terrorism is a crime in Canada. And anyone who traveled for the purpose of supporting terrorism should face criminal charges," he said.
« I'm not going to speak directly to any given situation, because it's in the hands of the police and possibly the courts. But it's important that we make sure people know that you can't get away with supporting terrorism in this country, no matter what the circumstances.
When asked if other repatriation efforts were underway, Trudeau said Canadian authorities continued to « responsibly engage » in the region.
— With files from Mia Rabson in Ottawa and Beth Leighton in Vancouver

torontosun