Polaris Slingshot: summer fun with one less wheel
Generally, I don't like motorbikes, boats and planes. Neither do helicopters, bicycles and snowmobiles. What I love is cars. Period.
So it was with guarded enthusiasm that I donned a helmet and slipped inelegantly behind the wheel of a Polaris Slingshot for the moment of a week last summer. I have no choice but to be honest: I didn't hate it.
Here is the brief account of my journey behind the wheel of this eye-catching three-wheeled thing like no other.
What is this bug?
Polaris is a recreational vehicle manufacturer known for its snowmobiles and all-terrain vehicles. In 2014, the American company entered a new market, that of the three-wheeled road vehicle by launching the Slingshot.
Manufactured in Huntsville, Alabama, the Polaris Slingshot falls into the autocycle category and must weigh no more than 1,700 pounds. It should be noted that this is a major issue in the design of a vehicle. Thus, all you need is a class 5 driver's license to be able to drive this car. A motorcycle license is not necessary and no course is required. Put on a helmet and go!
When the Slingshot hit the market, Polaris had just entered into a partnership agreement with General Motors. Its front hood housed a 2.4L Ecotec engine. Since 2020, the Slingshot has been powered by a new mill designed by Polaris. Essentially, two 1,000cc engines have been merged to obtain a 2.0L four-cylinder. Depending on the version chosen, power is 178 horsepower or 203 horsepower. Considering the weight of the vehicle, it's more than enough to have fun as it should.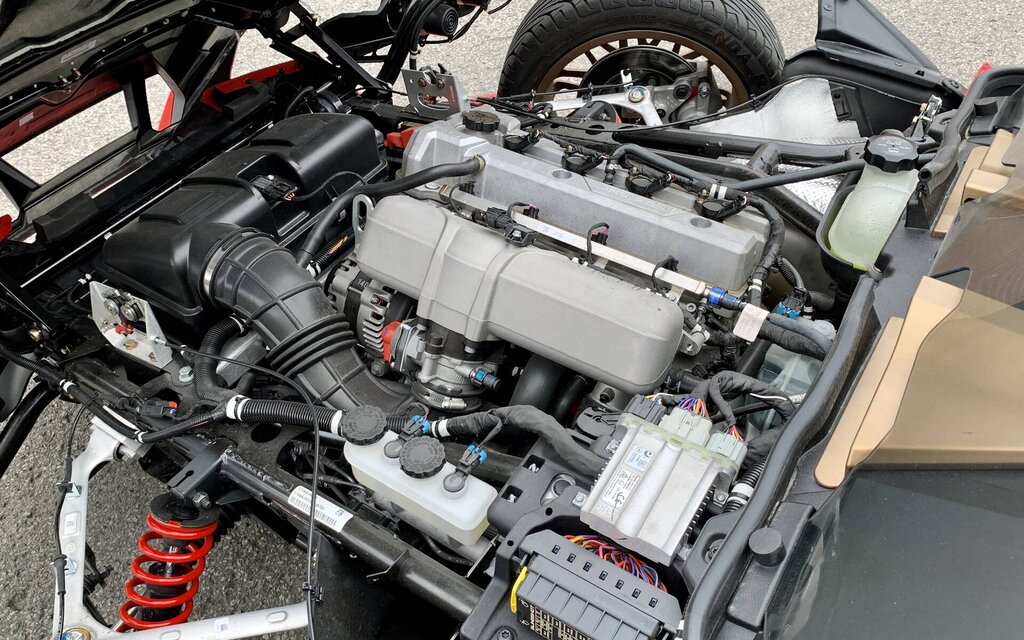 This block is paired with a five-speed manual transmission. It is also possible to opt for a robotic transmission. The test model was equipped with the latter. We have to admit that we noticed a delay in gear changes and a springy effect. Rest assured, we are already planning to test a manual transmission version at the beginning of next summer, just to maximize the pleasure.
What can it be compared to?
Although it is very different from other three-wheelers on the market, the Polaris Slingshot rivals the T-Rex and Can-Am Spyder. Geoffrey Clinchard, Polaris manager for Quebec, said that some of the customers, who are looking for a motorized summer toy, also consider buying a convertible vehicle like a Mazda MX-5. He mentions that the clientele is mostly aged 60 and over. Although this type of vehicle can only be used for a small part of the year, it is in Quebec that it is most popular in Canada. In 2021, the company sold 60 units through its network of 11 dealers in the province. Mr. Clinchard also specified that this figure is abnormally low and that the manufacturer is struggling to meet demand. Polaris generally sells 250 to 300 copies of the Slingshot each year in Quebec.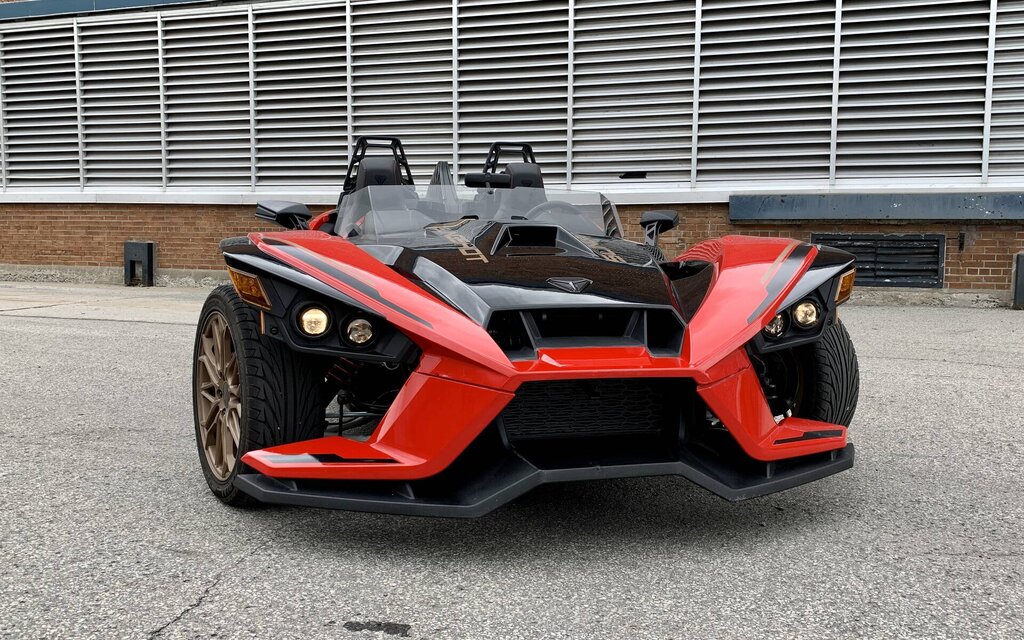 In SL trim, the Slingshot starts at $34,149. At the top of the range is the Signature LE version, which starts at $45,249. It is very expensive, there is no doubt.
The finish on board is not very elegant. If you've ever ridden a Slingshot, you know what I'm referring to. In fact, the engineers responsible for its design prioritized materials that were both lightweight and weather-resistant.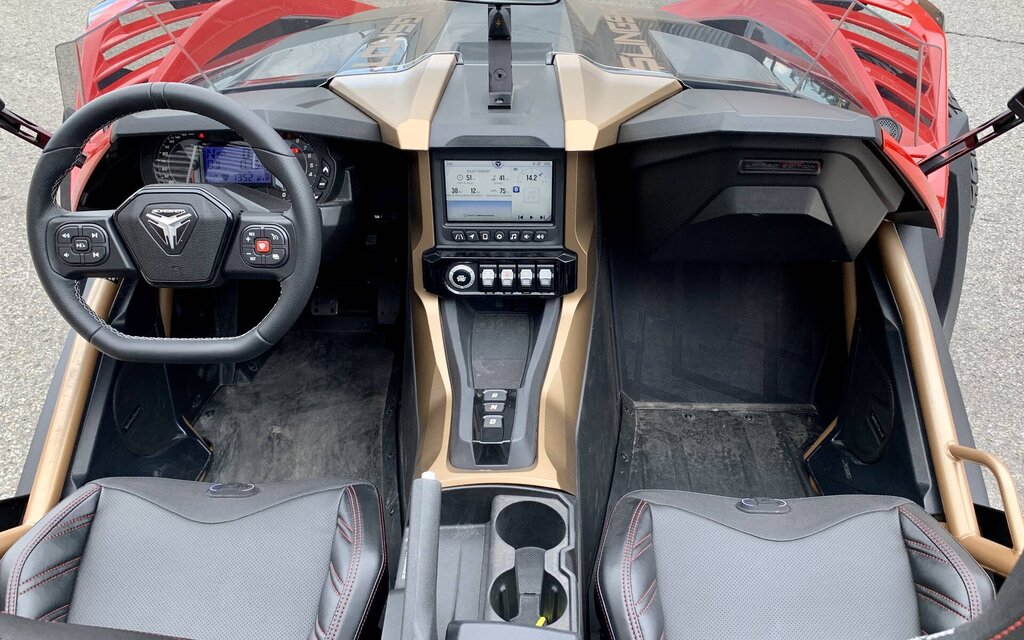 Thus, you can clean the passenger compartment with a garden hose or even leave the vehicle parked outside in the rain without this being a problem. Personally, I would make sure it is stored indoors to prevent it from degrading too quickly and to be able to keep it for a long time.
Don't imagine going to Costco with your Slingshot! In addition to a glove compartment, there are two small storage spaces behind the seats. They are mainly used to store helmets…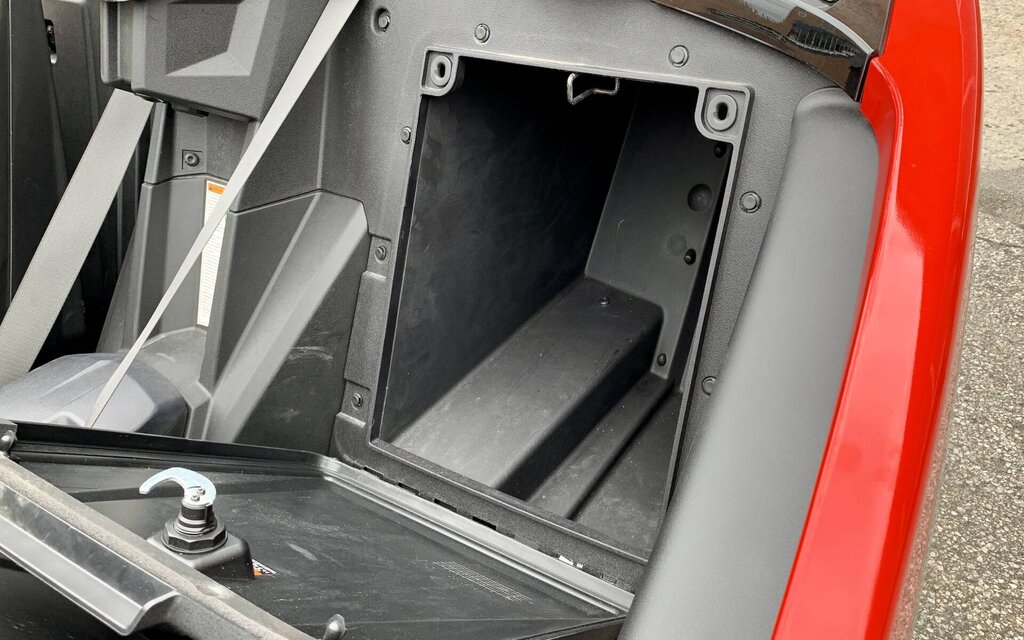 A Sunday afternoon vehicle… in summer… when the weather is nice
There's nothing practical or user-friendly about the Slingshot. It's definitely a toy to use on a sunny Sunday afternoon in summer. Forget the plan to get to the office every day in traffic jams. This is not his place. At the tolerated speed on the highway, we felt strong turbulence. It is truly a vehicle of pleasure which one borrows to traverse secondary roads. Due to its light weight, the Slingshot maneuvers with ease. We take pleasure in increasing the needle of the tachometer which can go up to 8,000 rpm before reaching the red zone.
The Slingshot is unquestionably nimble, but first you have to tame it. Although the handling is there, the rear end can stall more quickly than in the case of a traditional sports car.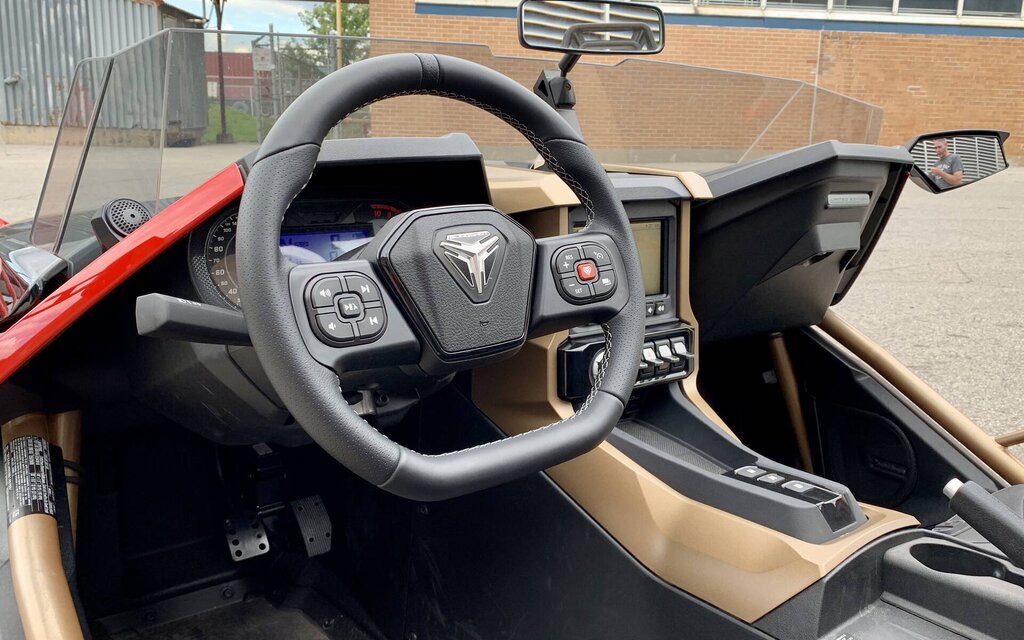 In short
Yes, I had some prejudices against the Polaris Slingshot. However, I surprised myself to lend myself to the game and to feel pleasure behind the wheel. It's a vehicle that you have to learn to master and which can become surprisingly pleasant afterwards. But on a personal note, I would still opt for a Mazda MX-5.



journaldequebec