Gara escaped the Iron Curtain and worked at the forefront of the communications revolution in London and Ottawa.
Content of the article
Surviving the Holocaust often required a bit of luck, good timing, or a trusted family friend.
Content of the article
George Gara of Ottawa enjoyed all three as a child in Budapest, Hungary during World War II.
"My dad would say they got lucky in the war," Judy Bosloy said in an interview. "Some people helped them, some things happened, and for some reason they didn't end up in Auschwitz."
Gara survived the Holocaust, studied electrical engineering, escaped from behind the Iron Curtain and worked at the forefront of the communications revolution in London and Ottawa, where he raised his family.
Gara died last month at the age of 90.
"My father was a calm, gentle man," said Bosloy, one of his two daughters. "He was very modest, very intelligent and very determined."
George Gara was born in Budapest on March 11, 1932 when anti-Semitism was boiling. Jews were blamed for Hungary's disastrous defeat in World War I, a short-lived communist takeover, and the country's economic difficulties.
Content of the article
"I grew up in an atmosphere of constant uncertainty," Gara wrote of her childhood.
High schools, he said, educated Christians and Jews separately, while swimming pools displayed signs that read, "No dogs or Jews allowed."
Hungary passed laws to limit the number of Jewish students in universities and the number of Jews in professional and administrative jobs. They were among the first "Jewish laws" passed in Europe.
In 1940, the country allied with the Axis powers – Nazi Germany, Italy and Japan – and entered World War II the following year.
In March 1944, German forces intervened to install a more docile government and keep Hungary embroiled in the war. Within weeks, the mass deportation of Jews from Hungary began.
Content of the article
In Budapest, Jews were forced to live in ghettos. Gara's family enjoyed a special status, however, as his father had been wrongly accused of being an anti-communist militant after World War I. This strange circumstance allowed the family to stay in their home until October 1944, when the Germans installed a Nazi government in Hungary.
Fascist Arrow Cross members ordered the Gara family to move to a Jewish ghetto. Gara's father, Dezso, was ordered to report for military duty, but went into hiding instead.
In December 1944, the Arrow Cross marched Gara, her mother, and her brother at gunpoint to a local train station. There they joined about 300 Jews awaiting deportation to a Nazi concentration camp.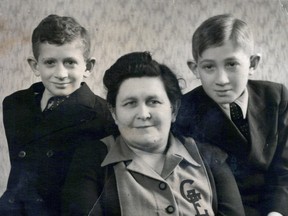 "Again, the whims of fate were in our favor," Gara recalls. The advancing Russian forces cut the railway line, making it impossible to continue the deportations. The Jews were driven back to the city.
Content of the article
The Garas fled to a Bulgarian immigrant trader, a friend of their father, who helped them hide on a nearby farm.
The Russian-led siege of Budapest lasted 50 days. Some 38,000 civilians were killed and the city was left in ruins. Gara recalls returning to the Jewish ghetto and seeing "corpses piled up like wood, three or four bodies high, the length of a city block."
The Garas also learned of the horrors of Auschwitz, Bergen-Belsen and other concentration camps.
"We gradually gave up hope for the return of many relatives and friends and accepted their loss, but even carrying all this burden we selfishly celebrated our own survival," Gara wrote of that time.
The Russian occupation forces did not leave Hungary and a communist government was installed. Gara concentrated on his studies and in 1955 earned a master's degree in electronic engineering from the Technical University of Budapest.
Content of the article
In the fall of 1956, the Hungarian Revolution shook the country as protesters took to the streets to demand an end to Soviet oppression. Soviet troops intervened to crush the uprising, and Gara was one of approximately 200,000 Hungarians who fled the country during the ensuing chaos.
He crossed the Austrian border and then went to England, where he found a job as an electrical engineer. In London, he co-wrote a technical report on electronic telephone switching with Tommy Flowers, the engineer who designed Colossus, the world's first electronic digital computer, which was used during the war to secretly decrypt German messages from high level.
It was also in London that Gara met a nurse and another Holocaust survivor named Vera Pick at a New Years party. They were married three months later in March 1959.
Content of the article
They started a family and moved to Ottawa in 1970 after Gara received an attractive job offer from Bell Northern Research (later Nortel Networks).
He worked in the telecommunications company for 25 years, then retired to a life of grandchildren, books, travel, chess, bridge and sports. He loved watching the Toronto Raptors and Blue Jays on TV.
In May 2000, while searching the Internet, Gara discovered a Nazi inventory of property looted from his wife's father, Moric Pick, a successful Viennese businessman who died in Bergen-Belsen in February 1945. Among the 52 stolen paintings There was a valuable work by Austrian Albin-Egger Lienz (1868-1926) entitled, The Scythe Sharpener.
When the Garas discovered that the Lienz painting – or a copy of it – was held by the Austrian Leopold Foundation, an art foundation, they sued for its return. The international legal fight ultimately failed, but it was the subject of a documentary film titled, Restitution.

Gb8