Police are looking for two suspects in the Friday night attack
Content of the article
A man is fighting for his life in hospital in a "life threatening" condition on Saturday after being stabbed outside the Main St. subway station on Friday evening, police say.
Content of the article
"At 6:49 p.m. we were called to a stabbing at the main subway station," said Const. Laura Brabant.
"There was an altercation between a group of men and it was outside the main gates at street level of the station. A man was stabbed.
The victim is a male in his twenties," said Const. Brabancon.
"He was taken to hospital with life-threatening injuries. And at this time, he still remains in hospital with a life-threatening condition.
Two suspects are wanted by the police.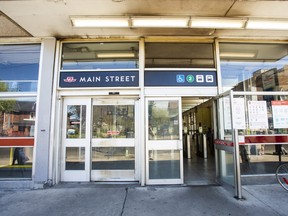 "Two suspects were first seen fleeing the area," Const. Brabancon.
Investigators have yet to release a description of the person they are looking for.
The incident interrupted metro and bus service to the station for at least four hours.
The TTC alerted commuters at 6:52 p.m. to a service disruption at the Main Street station.
Service resumed at the station around 11:15 p.m.

torontosun