Long-lost half-brothers reunited in Ottawa after DNA test
I was just stunned. I keep saying, 'I can't believe it.' He has the same build as my father, the same arms. »
Content of the article
It wasn't the unusually strong DNA match that convinced Bob Huson of Ottawa that he had discovered a half-brother living in England.
Content of the article
It was the photo.
The photo was of Malcolm Ives, now 76, who identified himself as a 'half-uncle' during a genealogy DNA search carried out by Bob's son Geoff in December 2019. Malcolm, he turned out, was born in Bournemouth, England in January 1946, a few months after the end of World War II. The seaside town of Bournemouth was also where Bob's father, George Huson, was stationed during the war with the Royal Canadian Air Force.
Winston Churchill said the war effort required « blood, toil, tears and sweat ». George, it seems, did him better.
« I told dad, even before I knew about the specific relationship, that there was a significant DNA hit with a man in the UK, » Geoff said.
« Then Geoff said to me, 'You better take a look at this,' » Bob, 72, added. « This photo – Malcolm is the spitting image of my father. It blew my mind and I thought, 'OK, something is going on here.'
Content of the article
Last week, the half-brothers met for the first time when Malcolm landed in Ottawa for a visit delayed two years by COVID-19. Bob has barely taken his eyes off him since. Reunited in the Husons' Westboro garden with Geoff and Bob's wife, Diane, the two men clown around like the brothers they are.
« My dad was my best friend, » Bob said. "And to see someone 10 years after my dad died who looks exactly like my dad… I was just stunned. I keep saying, 'I can't believe it.' He has the same build as my father, the same arms. They are both muscular guys.
George Huson grew up in Ottawa on LeBreton Flats and joined the RCAF during the war. He never spoke much of his wartime experience, but the family believe he was a mechanic and flew Lancaster bombers.
Content of the article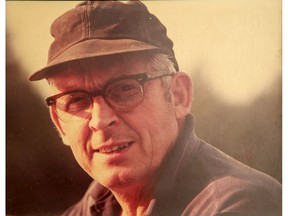 He returned to Ottawa after the war, started a taxi company, worked in computers and eventually had a career with the Department of National Defence. He married Bob's mother, Jean, in 1948 and the couple had two children, Bob and Debra, who now lives in San Francisco.
George died in 2007. Did he know he had left a baby in England?
« That's the big question, » Bob said. « I'm almost 100 per cent sure he had no idea, no idea he had a child. I talked about it with my sister. I said, 'Do you think daddy knows?' and she said « Certainly not ».
« I don't think he would be able to live with himself if he knew, » Geoff added.
For Malcolm, the news that he had a half-brother in Canada came as less of a shock. Described as a 'normal, healthy little boy with blond hair and blue eyes' by the adoption agency, Malcolm was adopted as an only child by an English couple, who he said were good and loving parents. And yet, he was still curious about his biological mother and father.
Content of the article
"My birthday was coming up and I was wondering about my mother. I thought, 'I wonder if she thinks of me?' But it wasn't like that every day or all year.
Malcolm submitted his DNA for testing about five years ago, not in an effort to find his parents, but « to find out what part of the planet I'm from. »
To his surprise, the results showed he had other siblings, a half-brother born in 1936 and a half-sister born in 1940, both from different fathers. Malcolm met his half-sister in England, but his other half-brother died in hospital before they had a chance to meet face to face. He was not shocked when Geoff Huson contacted him about other family members in Canada.
« I was like, 'Hello, here we go again,' » he said.
Content of the article
Malcolm's mother, Joan Smith, was 30 when he was born. Her adoption record described her as « a superior type of woman now working as a hotel waitress. » He said she put her baby up for adoption because she had to work to support herself and had no family of her own, which Malcolm now knows from a recent investigation was not true.
"She used to come to see me. I was too young. I do not remember. But then she went to London and that was it. She never heard from her again," he said.
"She really didn't want any of us. She was troubled. A troubled woman. These things happen. I have no regrets. I don't blame her. I don't blame any of them. I went on with my life. I had a good life.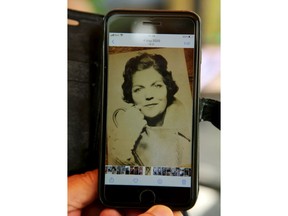 Since arriving in Canada, Malcolm has spent time at the Husons' Quebec cottage, toured the city and visited George Huson's grave in Pinecrest Cemetery on Tuesday. Next week he's heading to Calgary and Banff and a train journey through the Rocky Mountains. COVID-19 has made it too difficult for his half-sister to visit California, so he'll save that for another trip.
The retired chef said meeting his Canadian family fulfilled a lifelong goal of knowing where he was from.
« It's the icing on the cake for me, » Malcolm said. « My story is over. »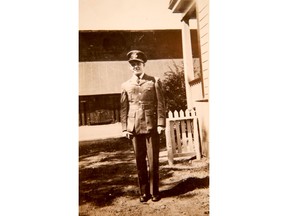 Gb8