Hundreds demonstrate in downtown Ottawa demanding action on climate change
"What do we do with all this? All we can do is keep bothering them (the politicians)."
Content of the article
Louka Kavcic, 11, skipped school on Friday to stand in downtown Ottawa calling on governments to take action on climate change.
Content of the article
It was good for his mother Laurie-Anne Muldoon, who stood alongside her son as they joined around 500 other people in Confederation Park for a 'climate strike' rally that later included a march on Parliament Hill.
Content of the article
Louka was holding a sign he drew in pencil which his mother says reflects his fears about the deteriorating state of the planet.
"You will die of old age, I will die of climate change."
She said they chose it together after looking at various protest slogans online.
"He said 'mum, this is the story of my life'."
"That's how he feels about climate change. He feels it will shorten his life. That's his fear."
Laurie-Anne said she was attending the rally for her son and other children who "really carry a heavy burden".
"As a parent, it really worries me that he's worried. It's so unfair."
Content of the article
Louka said he remains optimistic.
"Well, I hope this (gathering) will really impact the way people think."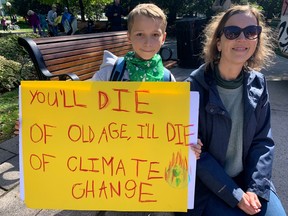 The interprovincial rally, sponsored by 2022 Fridays for Future Ottawa and Climat GO, began with rallies at Confederation Park across from Ottawa City Hall and at the Maison du Citoyen in Gatineau.
Participants from both locations marched to Parliament Hill, where they converged on a rally with speakers and music.
Protesters called on governments to make changes to avert climate catastrophe, such as drastically reducing carbon emissions that contribute to global warming.
The Fridays for Future movement was started by Greta Thunberg, the teenager who sat outside Sweden's parliament in 2018 to protest her government's inaction on climate change.
Content of the article
The outspoken Thunberg inspired an international student movement with her angry and anguished plea for adults to do something about the climate carnage they were leaving behind for future generations.
The pandemic has thrown a wrench in the climate protests, but international organization Fridays for Future says rallies were planned for Friday's "global climate strike" in cities across every continent.
One of their main demands is to keep the rise in global temperatures below 1.5°C above pre-industrial levels.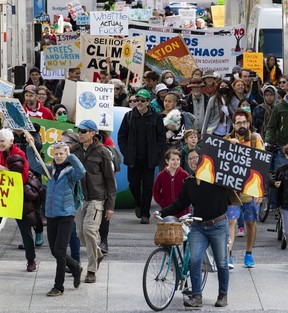 Ottawa demonstrators held signs that read "Protect the Trees!" Our lives depend on it!", "There is no planet B," and "You can't recycle wasted time." Among the chants: "Hey hey, ho ho, fossil fuels gotta go."
Content of the article
Vishesh Abeyratne held a sign saying, "1/3 of Pakistan is under water. Who's next?"
Floods have devastated Pakistan, killing and displacing millions and destroying crops, he said.
"People are on the brink of starvation," he said.
The climate emergency is being felt around the world, but there seems to be a complete lack of political will to act, he said.
"There is a deliberate and collective denial going on. What to do with all this? All we can do is keep bugging them (the politicians). »
The rally also included reminders of environmental concerns close to home.
Confederation Park protesters joined in the 'Think globally, act locally' chant after a speaker urged them to fight the destruction of trees in the Hunt Club forest, for example.
Content of the article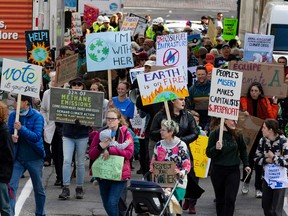 Another speaker deplored the proposal to cut down trees in the Central Experimental Farm for the construction of the new Ottawa Hospital.
Speakers at the Confederation Park rally also touched on a variety of other themes, from corporate greed and migrant worker rights to xenophobic nationalism.
Among the approximately 500 demonstrators who arrived on Parliament Hill from Gatineau were many students.
Noemie Burrs, 18, said students at Cégep de l'Outaouais successfully petitioned the administration to cancel classes so students could attend the rally, she said.
"It is important to promote this cause. It is our future after all.
Adrian Delic de Souza, 16, held a sign that read "The bad Amazon is burning! Buy less.
Content of the article
Governments must change their priorities and facilitate the transition to a greener economy through measures such as subsidizing electric vehicles and providing more charging stations, he said.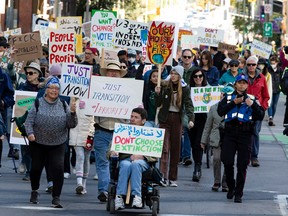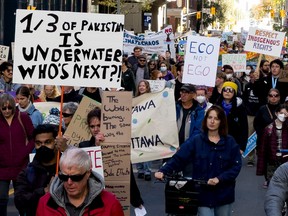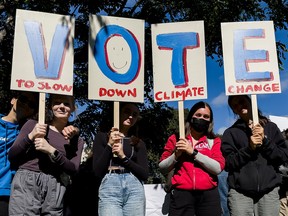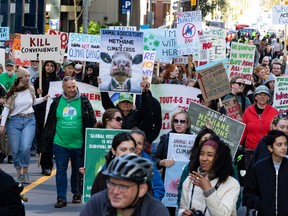 The Ottawa Police Service reported online that a woman leaving Confederation Park after the protest was injured crossing the road. "She was taken to hospital to receive treatment for her injuries which are serious but not life threatening," the post said.
With files from Postmedia News
Judge approves United Peoples of Canada deportation order

Ottawa has a new tool to track COVID: healthcare worker absences

Gb8