'Freezing cold': ex-trucker sentenced to 11 years for killing Alberta Indigenous woman, hiding her body
Content of the article
Warning: This story contains details that some readers may find disturbing.
Content of the article
A retired truck driver who killed an Indigenous woman and hid her body in locations across Western Canada has been sentenced to 11 years in prison.
Content of the article
Calling his crimes "brutal and ruthless", Court of King's Bench Judge Paul Belzil on Thursday sentenced Grant Sneesby to nine years for the 2015 murder of Bigstone Cree Nation member Gloria Gladue and to two years for offering indignity to his remains.
With the time spent on remand, Sneesby has just over 3½ years to serve.
Sneesby, 72, fatally stabbed Gladue at his home in northern Alberta. After the murder, Sneesby hid Gladue's body for nearly three years, moving it between rural properties owned by friends and family before dumping it in a wooded area in rural Manitoba.
Content of the article
Sneesby faced a second-degree murder trial in Peace River earlier this year, but was ultimately convicted of the lesser offense of manslaughter after just four hours of jury deliberation.
"We feel disappointed again. It's not enough time," said Nicole Gladue Weesemat, Gloria's oldest daughter.
"(It's been) a long journey for my family through the justice system. Now we are finally done, and I hope my family and I can start to heal.
'M. big survey
Sneesby stabbed Gladue on October 10, 2015 at his home in Wabasca-Desmarais. At trial, Sneesby maintained he did so in self-defense, claiming the 44-year-old attacked him with a knife. The two were the only ones in the house at the time of Gladue's death.
After killing Gladue, Sneesby wrapped the body in a vapor barrier and placed it in a trailer. It stayed there until spring, when Sneesby moved the trailer to a friend's property near Athabasca. A year later, Sneesby took the trailer to a nephew's property in Manitoba and dumped the remains along a highway right-of-way.
Content of the article
Crown prosecutor André Arseneau said Sneesby stabbed Gladue between two and 12 times, but the condition of the body made it impossible to tell the exact nature of his injuries.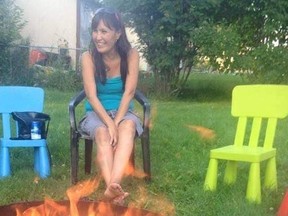 After the murder, Sneesby incinerated Gladue's phone and asthma inhaler. While the RCMP initially suspected Sneesby, he was not arrested until 2018 following a lengthy "Mr. "Big" undercover investigation that spanned Western Canada.
The investigation included more than a dozen officers, some of whom posed as employees of a trucking company with ties to powerful and dark figures capable of making the crimes go away. To gain his trust, undercover agents took Sneesby to NHL and CFL games, dinner parties, golf trips and even a fishing trip on the boat of the fictional company owner. in Vancouver. Sneesby first admitted killing Gladue in a Saskatchewan Roughriders game.
Content of the article
"National disgrace"
Manslaughter carries no minimum sentence and a maximum of life in prison.
At sentencing, Arseneau pleaded 12 years for manslaughter and 4½ years for indignity over human remains, calling Sneesby's actions "chilling" and a consequence of "centuries of 'oppression' of indigenous peoples.
Arseneau accused Sneesby of holding 'colonialist' views, including telling police that Gladue may have lived in a dumpster, one of several 'tropes' regarding Indigenous women the Crown said Sneesby had used to mislead the police after Gladue disappeared.
Sneesby told investigators – both undercover and in post-arrest interviews – that "different Indian girls would come" to his house, "mainly looking for cigarettes and liquor." He said it wasn't "really concerning" that Gladue disappeared because it had happened before.
Content of the article
When claiming Gladue left her home the night of the murder, Sneesby said she was "walking, but that's the custom with these girls." The Indians are always on the move.
"The correlation is clear – when the lives of Indigenous women and girls are devalued, those who would harm them are not deterred from doing so," Arseneau said.
Defense attorney Steve Smith pleaded for a 7½-six year sentence for manslaughter and the remainder for the unworthiness charge. He called the prevalence of missing and murdered Indigenous women in Canada a "national disgrace", but said his client should not be punished for a larger social problem.
Sneesby, dressed in a red and blue flannel shirt tucked into blue jeans, apologized to Gladue's family.
Content of the article
"I never thought about the anxiety and hurt his family would go through because of this," he said of the body cover-up. "I guess I was really selfish."
"Survivor, not victim"
Five of Gladue's relatives submitted victim impact statements, describing a beloved mother and kokum.
Gladue Weesemat described the pain of not knowing what happened to her mother. The family spent years looking for her and attending missing and murdered women events, "hoping it would help keep her name and face there." Norma Jean Gladue, Gloria's younger sister, said she spent years wandering the streets of Edmonton looking for her sister.
"You are more than a statistic," Gladue Weesemat told her mother. "You have left us with precious memories, a name to perpetuate through our children."
"You were working to be the woman I knew you could become, when you talked about your goals and your dreams and how much you loved us all. You will be remembered as a survivor, not a victim.



Gb8