"These are the worst-case scenarios behind closed doors, that we have to reduce those key fresh purchases, that it's like commodities, maybe our baskets aren't as robust."
Content of the article
After failing to meet even half of its food drive goal this summer, the Edmonton Food Bank is considering dipping into its emergency reserves or in the worst case potentially having to reduce the size of its baskets.
Content of the article
The annual Heritage Festival drive, which officially ended on August 5, brought in 22,761 kilograms of food but had a target of 50,000 kilograms. Online monetary donations raised an additional $35,267, the food bank said in a news release Friday.
Tamisan Bencz-Knight, the food bank's strategic relations and partnerships manager, told Postmedia that reducing the amount of food distributed and potentially cutting out expensive options like eggs and milk would be the last resort considered for make up the shortfall after tapping into the organization. emergency reserves.
"These are the worst-case scenarios behind closed doors, that we have to reduce those key fresh purchases, that it's like commodities, maybe our baskets aren't as robust."
Content of the article
Bencz-Knight said that at the end of 2021, the organization had about $3 million in reserve funds, but that money isn't going as far as people might think, especially given the number of people it serves.
June 2022 saw the highest number of people getting help through the food bank's basket programs in its 41-year history. A total of 34,867 people were helped, a 97% increase over the same period last year.
Bencz-Knight said staff currently feel a sense of fear and failure.
"It's not just the fear of what the future holds, but it's also, 'Oh, how did we fail?'" she said.
"And we don't want to fail, because if we fail, it means our doors close and other organizations and other people suffer more. So we cannot fail.
Content of the article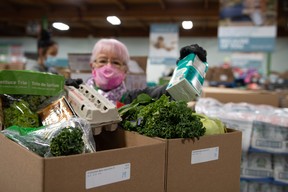 The organization is not at the point where it should consider shutting down, she said. She encouraged anyone who can to donate either through non-perishable food or by donating cash online. Those who cannot afford to donate could also consider volunteering to help pack and distribute food, she said.
She said Albertans also need to have broader conversations about poverty and the dynamics that impact food bank recipients, including affordable housing, mental health supports and addiction issues.
"We need to keep feeding people and I encourage people, if they can donate, to please donate. But we need to pick up our boots and start talking about what is causing this.
Adrianna Scott, CEO of Food Banks Alberta, said most organizations don't have food drives in the summer like Edmonton does, but many are worried they'll see a similar drop in donations with their big fundraiser in the fall.
Content of the article
"Anecdotally, we're hearing the same message across the board: usage is up, donations are down," she said, adding that Alberta food banks have seen an increase. 166% in the number of Member Organizations accessing their food since February. .
Scott encouraged people to donate and check with their local food bank to see what their specific needs are.
"I know and truly believe that food bankers, our partners and our donors will do whatever they can to help our communities through this," she said.
"But it's not going to be easy and it's going to cause a lot of pressure on our members and the people who use them."



Gb8