Content of the article
Edmonton fire crews responded to a blaze on Saturday morning and needed additional support to bring the blaze under control.
Content of the article
Edmonton Fire Services (EFRS) said the first fire call was received at 9:44 a.m. and crews were on the scene at 9:48 a.m. Multiple 911 calls were made.
Crews arrived in thick smoke and a fire at a two-story building at 106 Avenue and 114 Street. EFRS said six trucks initially responded to the scene but two more rigs were requested shortly after 10:10 a.m. after the fire was deemed under control at 10:09 a.m.
No injuries were reported.
The fire was still not extinguished at 1:30 p.m., but the emergency response team is now on site to support residents of the building, EFRS said.
At least two units were badly damaged at the scene.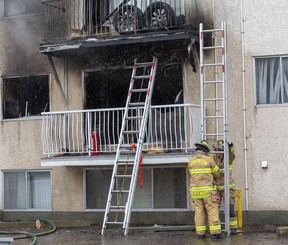 Gb8