Edmonton firefighters battle historic Douglas Mansion blaze
Content of the article
Edmonton Fire and Rescue Services fought a fire at the historic Douglas Mansion on Saturday morning.
Content of the article
Firefighters received reports of the fire at the three-story building around 3:42 a.m.
Crews arrived at the brick structure, 10157 83 Ave., within minutes.
No injuries were reported and firefighters were still on scene by midday Saturday.
Built over a century ago, Douglas Manor was designated a Municipal Historic Resource in 2019.
The building was constructed around 1914 and prior to 1918 it was linked to the Catholic Archdiocese of Edmonton, when it was known as Neuman Hall and used as a seminary. From 1918 to 1922 it was a home for college students and in 1923 it was converted to St. Mary's Home for Boys orphanage.
In 1941 the building was sold and renovated into an apartment complex known as Robert Mansion, and later became known as Douglas Manor in the 1970s.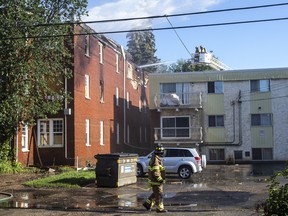 Gb8