Edmonton Artists Set to Take Hybrid Festival to a Whole New Level
[ad_1]

The two major festivals collaborate to fill the city center with music, art and performances for 10 days
Reviews and recommendations are unbiased and products are independently selected. Postmedia may earn an affiliate commission on purchases made through links on this page.
Content of the article
A rather cute ceremonial act outside City Hall last week made it official, as two organizations exchanged gifts of a set of juggling balls and a brush – both shiny and gold.
Content of the article
Thus, it was publicly demonstrated at a joint press conference that the Edmonton International Street Artists Festival and The Works Art & Design Festival are partners this year, occupying the same space at the same time.
From Friday to July 17 in Churchill Square, this collaborative hybrid is likely only a one-year affair, and both festivals are still using their own branding and holding individual events.
Including the large Transformation Gate (revisited) by Sharon Rose Kootenay and Jason Symington, more than a dozen art installations will be set up by The Works – plus all on the walls of 12 affiliate galleries across the city. On the side of the Street Performers Festival, 35 numbers will balance, juggle, sing and thrill the crowds during scheduled circular shows, traveling performances and Kids' World showcases.
Content of the article
The two festivals co-programmed the main stage with five musical acts a day, plus a Troupe de Jour finale at 10 p.m. every night. All of this is free.
Both organizations have long aimed for maximum diversity, but the number of things happening in the next 10 days is insane.
"I think the interaction is going to be really exciting," says Paul Bezaire, director of Street Fest. « The nature of the artists we work with sometimes blurs the line between theater and performance art, and so I think your visual arts audience that comes to The Works is bound to find something that interests them as well. .
Creative overlap
« And then the performative nature of some of the pieces that The Works brought in also lends itself very well to that same overlap. »
Content of the article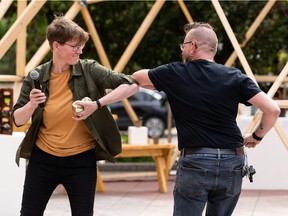 Before the pandemic, The Works typically operated for 13 days in late June or early July. In recent years, the two festivals have spent time away from the downtown construction of Churchill Square, Street Fest living in Old Strathcona, with The Works at its temporary Legislature Grounds location – although the latter festival is returned to Churchill last year as a smaller, non-stage presence.
The decision to combine the hearings was made in January.
"We left the place since 2017," notes Marian Brand, executive director of Street Fest. « So we feel like we're coming home.
« And Churchill Square is going to be full. »
The Works' executive creative director, Amber Rooke, agrees: « The benefits that we were pretty sure we were going to get is that there's a lot of activity – ongoing activity – on the site.
Content of the article
« So much has changed in the last couple of years, » adds Rooke, referring to staff changes at The Works headquarters in addition to the obvious struggles all arts organizations have felt. "Being able to team up has made that transition much smoother.
"We look forward to welcoming audiences back to downtown and bringing back that expansive festival experience we've all dreamed of.
A few of the artists scheduled for Street Fest are Amanda Panda's Hula Hoop Circus, Daniel and Kimberly Craig's The Street Circus, Hannah Cryle's The Big Wheel Show, Vinyl Burns Rock & Roll Show, The Silver's all-female aerial acrobatic show Starlets, and the hyper-Canadian juggling and balancing act The Hockey Circus Show.
"We definitely kept the schedule fairly light in the hope and knowledge that we can adjust," Bezaire said. Typically, the festival would schedule around 20 circle shows per day; this year it's 12 to 15, just to be sure.
Content of the article
International interpreters
"We always try hard not to look dead," he says. « There's always something going on – if it's not a focused show happening on one of the grounds or on the stage, we have rovers performing, in your face, at your table, » laughs- he.
While most artists hail from across Canada, Josh Phillips and Hannah Wiley come from Australia, while Kim Potter returns from New Zealand.
At the press conference, Seoul, Korea-born sleight and balance artist Jay Flair is visibly happy to be back in front of a cheering audience after rolling his crystal ball around his arms.
« Coming from sitting in my studio where there's no one at a live platform where I can play with people intimately, I have nothing else to say but I feel blessed, » says -she.
Content of the article
One of the curators of the big stage is veteran musician Ben Sures, who says he's happy to see the first live performances in years for some of the acts he's lined up. "It's funny to see people reappear. They don't really know how to talk to others; often, even established artists will be nervous. It can be a bit like dogs marking their old territory again," he smiles. « But once they do that, they calm down and put on a good show. »
The first act is an 11 a.m. Friday opening ceremony with Chubby Cree, with dozens of musical acts over the 10 days, including Maria Dunn, Andrea House, Everett LaRoi, Jane Hawley, Brasstastics and more at follow, listed with all the performers and artists. at theworks.ab.ca.
Content of the article
With a somewhat bare-bones offering this year, The Works will showcase its 17 site artists in 16 exhibitions, with 48 performances and workshops around Churchill Square — and notably, no tents.
Constructive conversations
« A lot of artists this year are engaged in conversations with current events, important current issues, » notes Rooke, « and they're engaged in reflection, really considering the responsibilities that we have and addressing the relationships that need to be taken into account."
A companion to its five-ton sister piece seen around the city over the years with over 7,000 decommissioned weapons from around the world, Collateral Damage is already behind the dinosaur wall at the Milner Library. "The gun sculptures call for peace through a reflection on the impact of human violence," Rooke explains, "and a call for active disarmament."
Content of the article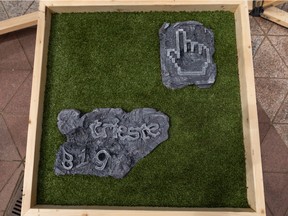 The Grass is Always Greener on the Other Side of Amanda Chwelos places social media and internet icons in a stone garden setting – actually plastic over fake grass – questioning permanence. Meanwhile, there's Kelly Andres' interactive wooden dome, Planting a Promise, in which you trade a written vow to care for the environment for a sunflower seedling.
"She wants to make sure our promises to nature are sincere," says Rooke. « So it's a very nice little exchange. »
Three separate works of art also address the pain and healing surrounding residential schools in recent times.
Typically, The Works operates under a thematic word, and although it's unofficial, Rooke establishes a 'relationship' – between them, our surroundings and, notably, between two festivals, coming together after a few harrowing years.
« Overall, we have a very broad offering at this year's event, » says Rooke, « and I think it epitomizes the complexity of our human experience in 2022. »
fgriwkowsky@postmedia.com
@fisheyefoto
OVERVIEW
Edmonton International Street Artists Festival / Works Art and Design Festival
When: From Friday to July 17
Where: Churchill Square, various galleries
Admission: free


[ad_2]
Gb8