Eastern Ontario Hospital Third ER Weekend Closure
"We are playing Russian roulette with people's lives during the busiest weekend of the season."
Content of the article
Carleton Place and District Memorial Hospital has become the third facility in Eastern Ontario to temporarily close its emergency department during what is considered one of the busiest weekends for rural hospitals.
Content of the article
The situation is not only unprecedented, but also extremely dangerous, said Dr. Alan Drummond, who is himself an emergency physician at a rural hospital in Eastern Ontario – in Perth – as well as co-chair of public affairs with the Canadian Association of Emergency Physicians. .
Content of the article
"The closure of three rural hospitals in Eastern Ontario over the same weekend is catastrophic and an indictment of the Minister of Health's failure to understand the magnitude of this crisis," Drummond said Saturday.
"We are playing Russian roulette with people's lives during the busiest weekend of the season."
Carleton Place and District Memorial Hospital announced Saturday that it will close its emergency department from 7 p.m. Saturday to 7 a.m. Sunday. It was the second time in a month that the hospital had been forced to temporarily close the ward due to a shortage of nurses.
Content of the article
"Patient and staff safety is our top priority," said hospital president and CEO Mary Wilson Trider.
In an interview, Trider said the temporary closure was due to staff illness and the hospital having a small staff. She said she hoped things would improve after the summer, but she couldn't guarantee the temporary Labor Day weekend closure would be the last.
"It could happen again."
Kemptville District Hospital announced last week that its emergency department would close overnight through the long weekend from 7 p.m. to 7 a.m., reopening for 24-hour care starting Tuesday.
"Like hospitals across the country, KDH is experiencing sustained system-wide pressure on our emergency department staffing levels due to absences, vacations, staff fatigue and COVID-related burnout," CEO Frank J. Vassallo said in a statement.
Content of the article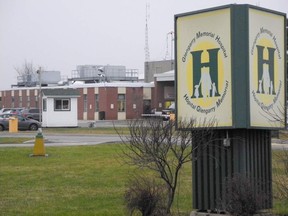 Glengarry Memorial Hospital in Alexandria also closed its emergency department from 6 p.m. Saturday to 8 a.m. Sunday due to a staff shortage. The hospital did not resume full 24-hour care in its emergency department until August 22 after partial closures from mid-July.
Carleton Place patients were to be redirected to hospitals in Almonte, Arnprior, Perth or Queensway Carleton Hospital in Ottawa for emergency services on Saturday night.
Kemptville patients were redirected to Queensway Carleton or Winchester District Memorial Hospital, Brockville General Hospital or Perth and Smiths Falls District Hospital. Alexandria patients were being redirected to hospitals in Cornwall and Hawkesbury.
Content of the article
Trider said hospital staff across Ontario have "turned inside out" to try to prevent the closings.
This is not the first weekend that emergency departments in Eastern Ontario have been closed this summer.
Last month, Ottawa's Montfort Hospital and Carleton Place and District Memorial Hospital announced temporary weekend closures. The emergency department at the Perth site of the Perth and Smiths Falls District Hospital reopened on July 24, more than three weeks after it was closed due to an outbreak of COVID-19 and a shortage of nurses . Other hospitals in the province have also temporarily closed emergency departments.
Drummond said Health Minister Sylvia Jones had failed to respond adequately or even acknowledge the severity of the crisis, despite repeating longer-term plans to train more nurses and make the job easier internationally educated nurses in Ontario.
Content of the article
"It's all well and good to plan for the future, but right now none of this will solve the problem of today," Drummond said.
He said Ontario must take immediate action to retain and bring nurses back by scrapping Bill 124, providing them with appropriate compensation and addressing concerns about safety and mental health. He acknowledged that there was no quick fix.
"I don't expect (Jones) to pull a rabbit out of a hat, but she's been a minister since June," Drummond said. "This crisis is unprecedented. With these closures, the numbers are really alarming and she has done nothing. »
Drummond said Labor Day is the one weekend of the year that makes him anxious, as it's typically the busiest for rural Ontario hospitals.
With files by Megan Gillis
Kemptville District Hospital ER closure slammed as symptom of burnout due to provincewide nursing shortage

Glengarry Memorial Hospital closes the emergency section from Saturday evening to Sunday morning

Montfort and Carleton Place hospitals will close emergency departments overnight this weekend

Gb8