Deachman: Personal memories dot Beechwood's Fields of Honor
« We wouldn't have the freedoms we have in Canada today if it weren't for every person who lies in this cemetery and around the world. »
Content of the article
Before dignitaries arrived for the official ceremony, before the piper's warm-up hum filled the air and before the official moment of silence commemorating those who served Canada, Beechwood Cemetery came to life on Friday morning .
Content of the article
He came alive with personal memories as friends, families and loved ones arrived, dotting the fields of honor to pay their respects.
Content of the article
Ray and Mila Villamil brought a photo of Ray's younger brother, Renerio, nicknamed Rei, a sergeant in the intelligence branch. He died in June 2021, aged 51, months after the cancer he was diagnosed with sent him back to Canada from his posting in Kuwait.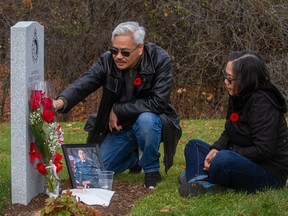 Rei joined the Forces shortly after arriving in Canada from the Philippines. He also served in Afghanistan, Bosnia, United Arab Emirates and Yugoslavia.
« The army was his family, » Mila said. « He served for 23 years. »
Ray and Mila set up a small altar at Rei's grave and said a prayer. They also planted a pinwheel with maple leaves on his grave; Rei, her brother said, loved toys. « He was truly young at heart. »
Content of the article
---
Nearby, Richard Scott Elson walked slowly through the rows of headstones, reading names and dates and thinking how young many of them were. "Especially those from World Wars I and II," he said. "Even a lot of the young people we lost in Afghanistan were in their twenties. To die that young is terrible.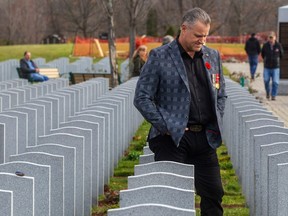 Elson's father served in the military for 32 years. Elson followed in those footsteps, in his case as a clearance diver – a bomb technician – with the Canadian Fleet Diving Unit, for most of 22 years of service.
Elson knows half a dozen veterans buried at Beechwood. In the seven months he served in Afghanistan in 2006 and 2007, he said, 32 Canadian soldiers died. « Some of them are here. » That's why he prefers to attend the Remembrance Day service at Beechwood rather than the National War Memorial. "There is something special about being here where they were buried.
Content of the article
« We wouldn't have the freedoms we have in Canada today if it weren't for every person who rests in this cemetery and around the world, » he added. « You have to understand that, and I hope most people in Canada understand that. »
---
In the former military section of Beechwood, Jean-Claude Robichaud searched for the gravestone of Sgt. Andrew Doiron, who died by friendly fire in Iraq in March 2015. Doiron was from Moncton, New Brunswick and became a member of the Canadian Special Operations Regiment based in Petawawa.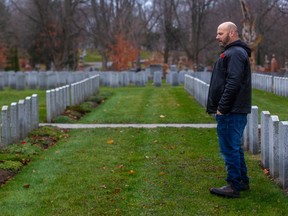 Robichaud knew Doiron through a friend. That wasn't his only connection to Remembrance Day. Robichaud's grandfather, Célestin Daigle, and stepfather, Jacques Labonté, both served and are buried in Richibucto, NB and Drummondville, Qc, respectively.
Content of the article
Daigle saw combat in World War II. "He didn't have much to say about it. It was hard for him, recalls Robichaud. "When I lived in New Brunswick, I always went to the parade to honor the fighters. We have always done something.
---
Laura Woolridge wiped away tears as she stood in front of her husband's grave in Beechwood. Master Corporal of the Royal 22e Régiment, Gilbert Barre died in August 2018 at the age of 70.
"He joined the army as a young soldier," she said, "following in his father's footsteps. He loved his country and he loved the army.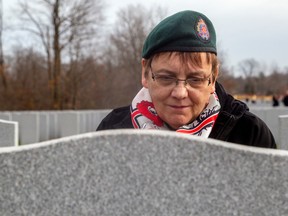 Barre served in Cyprus and after leaving the army — he injured his back jumping out of a plane — joined the Canadian Corps of Commissionaires. It was there that he met Woolridge, a retired corporal from the logistics branch of the forces. They had been married for 25 years when Barre died.
Content of the article
« He tried to be tough, but he wasn't tough on me, » she laughed. « He could have had a higher rank in the army, but, when he came home, he didn't. »
She visits him at least once a month. « Not only was he my best friend and my husband, but he was a comrade in arms. He sacrificed and suffered so much for his country and for the freedom of others today, to have peace in the country, in all countries.
---
Johic Nicolas knelt at the grave of Arthur Wahlroth, who served as a pilot and Flight Lieutenant during World War II. Wahlroth died in August 2009 at the age of 94.
Nicolas knew Wahlroth as a frequent volunteer and researcher/writer at the Canada Aviation and Space Museum, where Nicolas was the Volunteer Coordinator.
Content of the article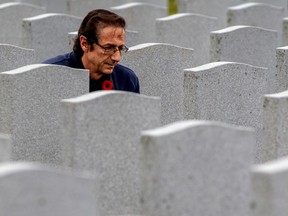 "Art was a force of nature. He served from 1941 until the end of the war. He flew very dangerous daylight raids in a Vickers Wellington bomber with 405 Squadron. The bomber was incredibly vulnerable and slow in a time when there was no fighter cover, so it was a killer time.
Wahlroth refused a Distinguished Flying Cross, Nicolas said, after his commanding officer received one for what Wahlroth considered unhelpful actions.
« It was Art for you. A real fighter, and principles, and he didn't mince words. We thought he was too pissed off to die.
Back in Canada, Wahlroth was stationed at Rockcliffe Air Force Base in Ottawa, where he learned to fly seaplanes.
« Like anyone of his generation, he was one of those who got out, but he lost a lot of friends there. And he never talked about it.
But he talked about his love of flying. « He told me that in some ways the war, despite the horrors, allowed him to be the pilot he always wanted to be and the person he was. »
Crowds return to first full Remembrance Day ceremony since pandemic began

From Bank Teller to Bomber Pilot: The Life and Death of Earl Erickson

Gb8