Carleton student Cihan Erdal returns home after detention in Turkey
Erdal escaped the country by making a perilous journey to a third country where he sought political asylum and then boarded a flight to Canada.
Content of the article
A Carleton University PhD student and human rights activist has returned to Ottawa after two years in detention in Turkey, where he was charged with inciting protests against the government.
Content of the article
Cihan Erdal, 33, was reunited with his common-law partner, Omer Ongun, Friday at Montreal International Airport.
Content of the article
« I'm grateful for all the support and solidarity in my case: it's been a rollercoaster of emotions, » Erdal said in an interview on Monday. « It's unreal that I've come home. »
Erdal, of Turkish origin, a permanent resident of Canada, was visiting family and conducting research for his thesis on youth-led social movements when he was arrested in September 2020. He had been charged with inciting to violent protests six years earlier.
« I was shocked, » Erdal said.
He was transferred from Istanbul to Ankara, held in solitary confinement for 21 days and spent nine months in prison before being released. For the past 15 months, he has been under house arrest and banned from leaving Turkey pending trial.
Content of the article
Erdal fled the country on a perilous journey to a third country where he sought political asylum and then boarded a flight to Canada.
« It was a scary trip but it paid off because I'm here, I'm home, » he said. « I was a political prisoner, a political hostage, deprived of my freedom in Turkey for simply being a member of a legal political party and expressing my views on peace and democracy in the country. »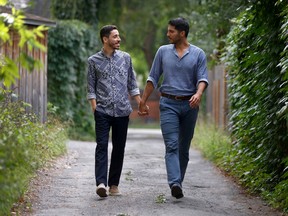 Ongun campaigned tirelessly to rally international support for Erdal after his arrest.
At least 20 organizations have issued statements demanding Erdal's release, including the European Court of Human Rights, the United Nations Working Group on Arbitrary Detentions and the Canadian Union of Public Employees. More than 2,500 scholars around the world, including Noam Chomsky, have signed a petition calling for his release.
Content of the article
« I was just an ordinary person – I would never consider myself an activist – but it was forced on me. I didn't want this, but I had to do something, » said Ongun, a human resources consultant.
Ottawa human rights lawyer Paul Champ worked on Erdal's behalf for two years and called his comeback a victory for human rights.
« I can't express how thrilled I am that he has returned to Canada safely, » Champ said in an interview Monday. « I was very afraid for his future and if he would end up in prison again. »
Erdal was born and raised in Turkey and moved to Ottawa in 2017 to further his studies in anthropology and sociology. Ongun ⁠— the two met in Turkey 12 years ago when they were both students ⁠— later joined him in Ottawa.
In August 2020, Erdal returned to Turkey to visit his family and work on his thesis. As a youth, Erdal had been a member of the pro-Kurdish People's Democratic Party (HDP) of Turkey; he was a youth member of the central executive committee of the opposition party in 2014.
Content of the article
Erdal was arrested during a government crackdown on the party leadership that swept away more than 100 HDP officials. They have all been charged with terrorism-related offenses for inciting the violent protests that rocked Turkey in October 2014.
Erdal was charged, he said, based on three social media posts he made in support of the protests.
These protests were sparked by an ISIS military assault on the Syrian border town of Kobani, which has a large Kurdish population. Turkey's Kurdish community has accused the government of doing nothing to stop the onslaught.
The HDP called for street protests and thirty-seven people died in the unrest that followed. The HDP blamed the Turkish police for the violence.
Human Rights Watch has denounced the prosecutions in this case and accused the Turkish government of using the criminal justice system to silence political opponents.
Content of the article
Erdal said there was a deep crisis of democracy in Turkey and President Recep Tayyip Erdogan was determined to punish anyone who interfered with his resolve to stay in power. « It's about silencing the opposition, » he said.
Erdal said he plans to return to work on his doctorate and pursue social justice issues. He also vowed to embrace Ottawa's winters.
"I promised Omer when I was behind bars that I would never complain about the long winter in Ottawa; I will be one of the few people who never complains.
'Writing behind bars': Carleton University student says letters he wrote and received in Turkish prison were lifesaver

Carleton student Cihan Erdal, imprisoned in Turkey since September, will face trial this spring

Gb8