Antiquities: risky lighter design based on mythology
Reviews and recommendations are unbiased and products are independently selected. Postmedia may earn an affiliate commission on purchases made through links on this page.
Content of the article
Q This lighter is the most particular and mysterious example of my collection. It's a devil on a pedestal above a smoking woman. My wife and I bought it on eBay for $68. The metal is silver in color and measures 23 cm high (9.25 inches) and weighs approximately one kilogram (2.2 pounds). We can't find any marks. The devil's head flips over to reveal a small cylindrical flint/wick type lighter. Any knowledge on this would be greatly appreciated.
Content of the article
Cyril, Chester, NS

A A wide variety of lighters were created from the 1920s and many were cast from base metal alloys, like yours. Based on mythology, this rare lighter depicts a lascivious bacchante (a devotee of Bacchus, the god of wine) smoking a cigarette while gazing at the Greek god Pan. Pan, the god of rustic and wild music, was often represented in art on these herms or four-faced markers, and is distinguished here by his goat horns. It is probably a European manufacture. A risky item like this would have been used behind closed doors in an exclusive smoking room. In collector circles, racy items like this are highly sought after. Your lighter is worth at least $400.
Content of the article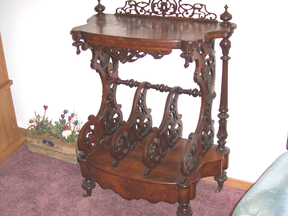 Q This table was purchased at an estate sale in Ontario in the 1960s for $1,200. Apparently it was brought from England by the estate owner's great-grandfather. It's about 102cm tall (40 inches) and I believe it's rosewood veneer. The carving is different on each side so I think it must be done by hand. We were told this was one of 13 tables made for Canterbury Cathedral barristers.
Content of the article
Charles, Essex, Ont.
A Your interesting story may have some truth to it, but it has probably evolved over time. This is a wonderful piece known as canterbury, intended for paper music printed in sheet and book form. Famous furniture maker Thomas Sheraton said in The Cabinet Dictionary that the Canterburys were so named because they were commissioned by the Archbishop of Canterbury. This one was made around 1860 and its mahogany veneer with hand-carved and fretted partitions. These are rare pieces that are usually only owned by very wealthy people. Today's volatile antiques market has risen since the 1960s and has stabilized at the same value today, averaging $1,200.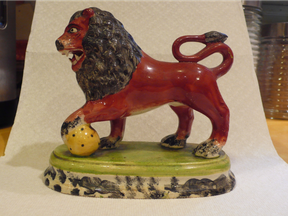 Q A great-aunt gave this lion to my father in 1915. It has no markings, but I think it's Staffordshire. It measures 15 by 15 cm (6 by 6 inches). I heard that these animals usually come in pairs. I only have one. Please tell me about it.
Content of the article
Aggie, Toronto
A Your lion was made in an English pottery in Staffordshire between 1815 and 1830. These mantel ornaments were often in pairs, but having even one of these rare performing lions comes at a price. It was fashioned after a famous bronze lion, made in the 1400s, which now resides in the Bargello Museum in Florence, Italy. A few different basic shapes have been used and the colors vary, being hand painted. The production of these lions was very low because the molding of the open mouth and prominent teeth required extra care. These rustic terracotta ornaments are often used in country settings. Many serious collectors adore these charming naïve figurines. Your majestic heirloom is worth $900 today.
John Sewell is an appraiser of antiques and works of art. To submit an article to his column, go to the 'Contact John' page at www.johnsewellantiques.ca. Please measure your part, say when and how you got it, what you paid for, and list all identifying marks. A high resolution jpeg photo must also be included. (Only email submissions are accepted.)
* Appraisal values ​​are estimates only.*

Gb8