A DECADE SINCE DANZIG: Community remains scarred amid deep mourning
« It was pretty quiet here. We have a lot of neighborhood officers coming by all the time »: Resident of Danzig St.
Content of the article
Nearly a decade after Toronto's worst mass shooting, the community around the Danzig St. housing complex in Scarborough remains scarred.
Content of the article
Outside one of the townhouses – near Lawrence Ave. E. and Morningside Ave. – is a photo of Joshua Yasay, 23, and Shyanne Charles, 14.
Both were killed on July 16, 2012, in a hail of bullets that also injured 22 other people, including a baby.
The shooting made international headlines.
"They died for no reason. They died for nothing," Ruth Weisz said, recalling the horror she and her husband felt as they searched for their 15-year-old son.
"My husband was running around the neighborhood looking for my son. He was terrified," said Weisz, who has lived in Danzig for 20 years.
Her son was safe – buying blocks of pizza when the shooting broke out.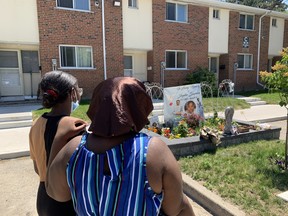 Mike Reynolds was with his children at their home – across the parking lot from the Toronto Community Housing townhouse complex where the party took place.
Content of the article
« It was very hot that night, so we had a cool breeze on the porch, » he recalled. « And the party was going on and we saw people showing up and introducing themselves and we thought, 'Oh, this isn't going to be good. « »
Rival gang members – teenagers – were behind the deadly violence which involved a 9mm handgun, a .40 caliber handgun and a 9mm submachine gun.
Siveaya Bailey remembers being six years old and looking forward to attending the block party that day.
She's grateful she didn't.
« I was at home and I heard everything and saw everyone running. And I was scared, » she said.
Then, three years ago, she lost a former classmate in another flash of violence in the same parking lot.
This is where there is a memorial for high school student Jaydin Simpson, 17, who was shot and killed on June 28, 2019 – just hours after graduating.
Bailey had known him since elementary school.
« I was sad that he passed away because another person who was going to walk out of here was gone, » Bailey said.
Shelley Parsons' Danzig St. unit is a short walk from where the victims fell in 2012.
"I moved in seven years ago and it's pretty quiet here," she says, watering her lawn. « We have a lot of neighborhood officers coming by all the time. »
« It's very sad. But it's happening everywhere, » Parsons said. « Until they get the gun law under control, what are we supposed to do? »
slaurie@postmedia.com
Twitter: @_ScottLaurie



torontosun